If you want more nutrition and healthier meals, check out these amazing and easy-to-make 10 quinoa recipes that will make you forget all about rice. Quinoa is so delicious!
10 Quinoa Recipes That Will Make You Forget All About Rice
Quinoa isn't just delicious, it's also incredibly nutritious! The naturally gluten-free pseudograin (it's actually a seed, but it's considered a whole grain) is naturally gluten-free and contains iron, B-vitamins, magnesium, phosphorus, potassium, calcium, vitamin E, and fiber. It's also one of only a few plant foods that are considered a complete protein, containing all nine essential amino acids, making it a vital staple in a vegan diet. Let's look at a few of the benefits of this amazing little seed compared to rice.
Quinoa vs. Rice: Which is Healthier Overall?
Ask any nutritionist which is healthier, and I can guarantee you that they'll say quinoa. In fact, that's exactly what MSN News did: they asked a bunch of nutritionists, including Dr. Sandra J. Arévalo, the spokesperson for the Academy of Nutrition and Dietetics. According to Arévalo, quinoa contains all the building blocks of protein (amino acids) that our bodies need. White and brown rice, she said, doesn't. She also explained that quinoa has more fiber and a lower glycemic index than rice.
Registered nutritionist Dr. Lisa DeFazio agreed, adding that quinoa is a "great choice for people with diabetes, as it will not spike glucose levels like white rice, due to its [fiber] and protein content."
Right there, you have it straight from multiple nutritionists that quinoa is just better for you than rice. Still not convinced? Well, let me tell you about phytates. They are anti-nutrients contained in rice, and they make it difficult for our body to absorb nutrients from both the rice you are eating and the other foods accompanying it.
So, not only are you getting fewer nutrients overall when you choose rice over quinoa, but your body isn't even fully absorbing the nutrients you do get! Oh, and let's not forget about the arsenic in rice. Yep, arsenic, as in the highly toxic poison.
What you need to know about arsenic in rice
Arsenic comes in two forms: organic and inorganic, according to Healthline. While the organic stuff- found in plants and animals, is toxic, the inorganic stuff- found in rocks and soil- is even worse. The poison has always existed side-by-side with humans, but for the most part, we've managed to keep the worst of it out of our food. However, thanks to pollution, more and more inorganic arsenic is ending up in our food supply.
While rice isn't the only crop affected, several studies (like this one and this one) show that arsenic tends to collect in rice more than in any other crop. It's so bad that physicists have come up with new ways to cook rice to remove arsenic. They've discovered a way that removes "over 50 percent of the naturally occurring arsenic in brown rice, and 74 percent in white rice." So, now you can enjoy your rice with 51% less poison than ever before!
Quinoa, on the other hand, has about as much arsenic as any other grain (it's almost impossible to find any sort of grain that doesn't have a little of the organic stuff in it), which is far less than that found in rice.
If you're convinced that quinoa beats rice, then keep reading for some amazingly delicious recipes to try.
My Top 10 Favorite Quinoa Recipes
What are you waiting for? Try these 10 Quinoa Recipes That Will Make You Forget All About Rice and start making healthier choices. Make sure you buy good-quality organic quinoa.  I like C & F Premium Organic Quinoa
because it is already pre-washed and ready to cook. It is very important to rinse the quinoa before cooking.
1. Chicken And Vegetable Quinoa Fried "Rice"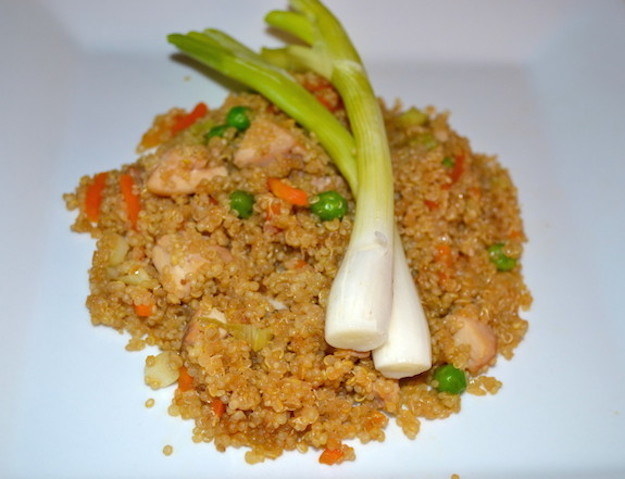 This is one of my favorite easy dinner recipes and the entire family loves it. A healthier option to traditional Chinese fried rice + added health benefits. The soy sauce is the only thing keeping it from being gluten-free, and you can easily find GF options for that (like Tamari soy sauce). Recipe Here
You may also like this easy Quinoa with Veggies recipe!
2. Creamy Quinoa Risotto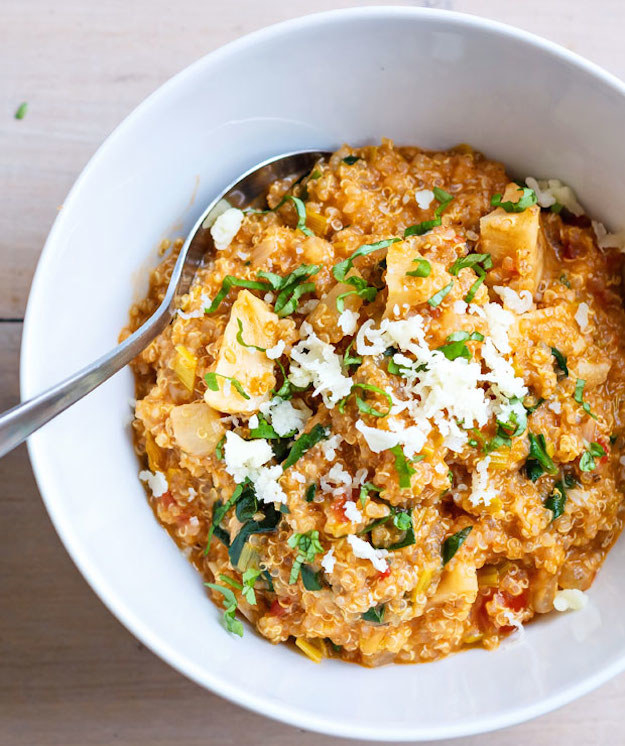 Eatwell101 / Via eatwell101.com
You can substitute rice and make a delicious and creamy quinoa risotto in just around 25 minutes. It will be healthier and even tastier than most traditional risotto recipes. Recipe Here
3. Quinoa Pilaf
When I discovered this recipe, I immediately fell in love with it. This is a fantastic idea for a weekly family dinner (or a healthy side dish) and incorporates lots of healthy ingredients. Again, soy sauce is the only thing that isn't gluten-free on its own, but as I said, there are alternatives. Recipe Here
4. Spinach And Artichoke Quinoa Casserole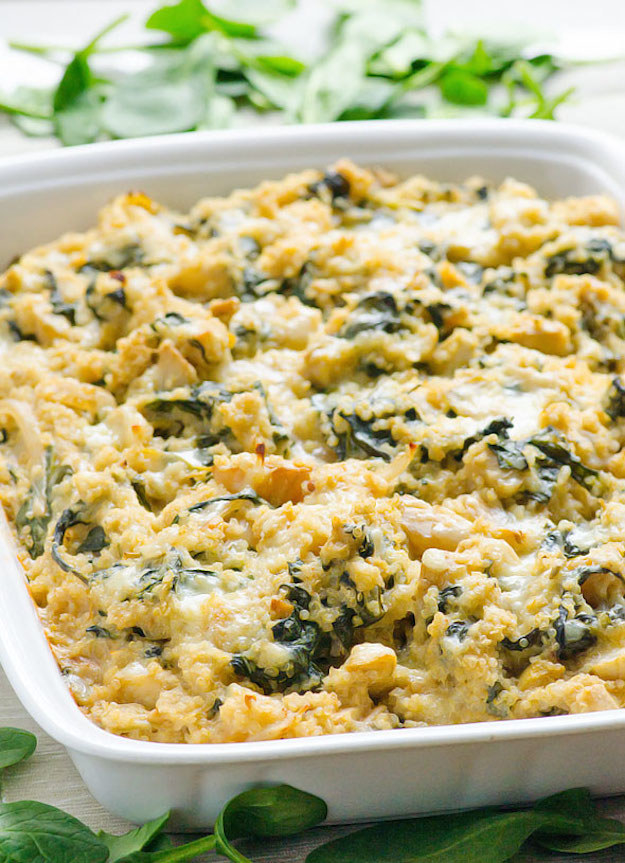 Ifoodreal / Via ifoodreal.com
Casseroles are in my opinion, one of the best comfort foods. You can have this as a side dish or by itself. Either way, it will make you feel wonderful. It's also completely gluten-free as-is. Recipe Here
5. Molded Quinoa With Ground Beef Filling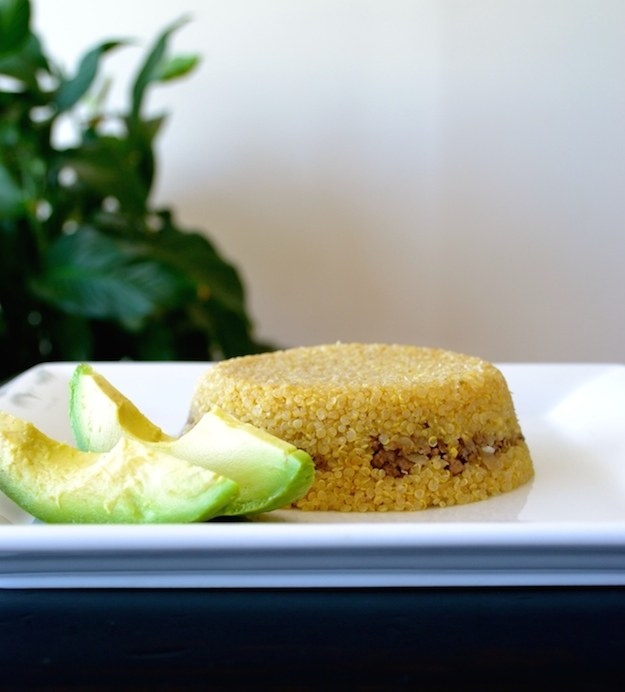 Creative And Healthy Fun Food / Via creativehealthyfamily.com
I grew up in Peru and this is a popular homemade dish that most families love. I used to get so excited every time my mom will make it. And now, I make it for my kids but instead of rice, I use nutritious quinoa. Recipe Here
6. Mexican Quinoa Stuffed Peppers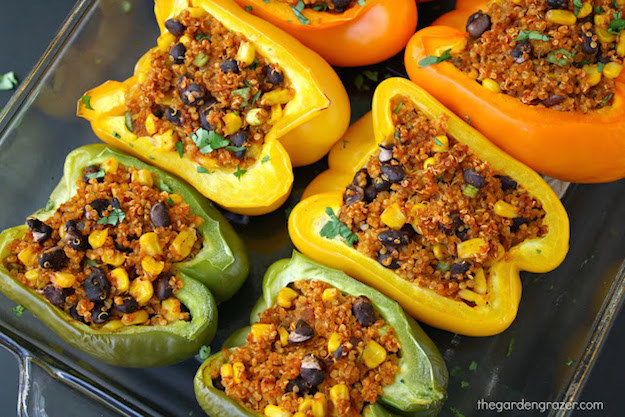 The Garden Grazer / Via thegardengrazer.com
I love peppers and this is such a great idea, I had to share it with all of you. Great as an appetizer or even main course. Enjoy the different textures and flavors and get all the benefits from eating quinoa. Between the colors and the fun presentation, this is a great way to get picky eaters to try something new, too. Recipe Here
7. Quinoa Stew With Beef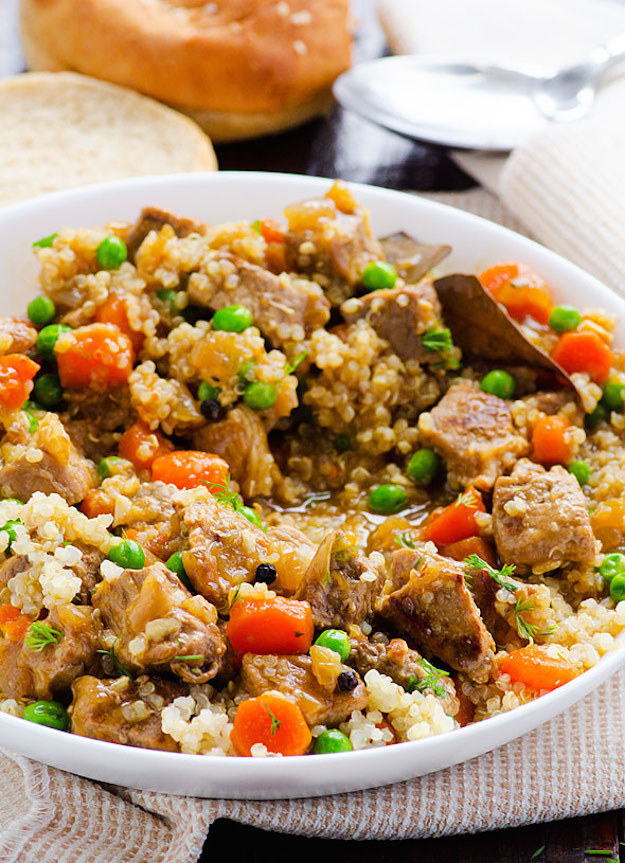 Ifoodreal / Via ifoodreal.com
Another great gluten-free comfort food with a twist. Instead of rice, make your stew with quinoa and see how delicious it is. Perfect for families looking to make healthier choices. Recipe Here
8. Sriracha Chicken Quinoa Bowl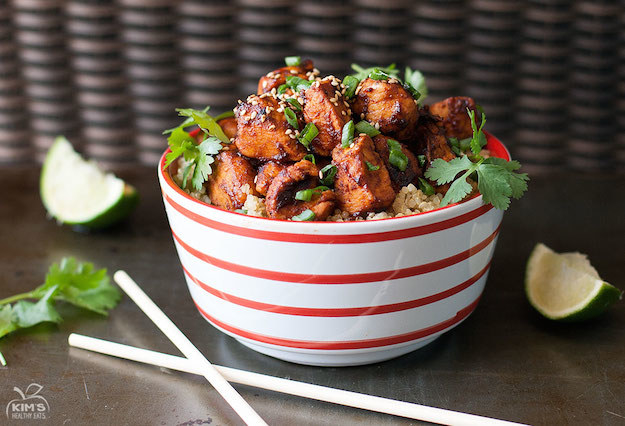 Kim's Healthy Eats / Via kimshealthyeats.com
I really love this idea. Quinoa bowls- instead of rice bowls- are amazingly nutritious and delicious for lunch. I also love the spicy kick from the sriracha sauce. Yum! If you can't really handle spicy foods, though, you can always go with a different sauce. Recipe Here
9. Thai Chicken Quinoa Bowl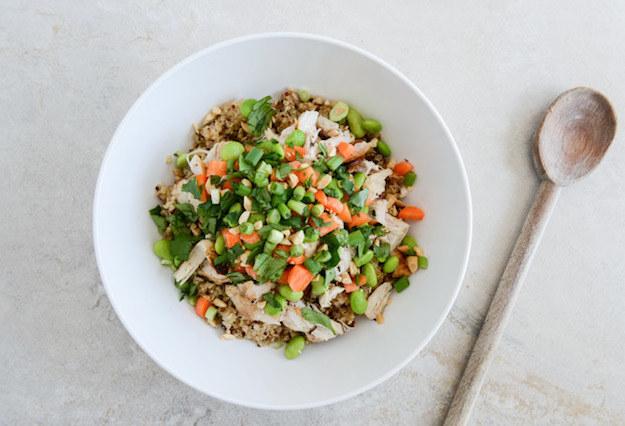 How Sweet It Is / Via howsweeteats.com
I am a Thai food lover but the problem is most Thai dishes are served with rice. But now quinoa comes to the rescue and makes this recipe super healthy without sacrificing taste.  Recipe Here
10. Mexican Quinoa Jambalaya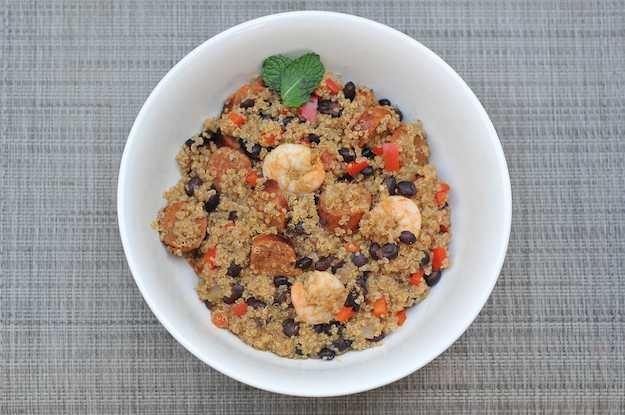 Daddy's CookHouse / Via daddyscookhouse.com
Yes! Mexican food can also be made with quinoa. This is actually a fusion but it works really well. Another great easy dinner idea that the entire family can enjoy. Recipe Here
11. Colorful Quinoa Salad Recipe
This Colorful Quinoa Protein Power Salad is perfect for a healthy lunch or as an accompaniment to any leftover meat. Grab the recipe here!
Still need more quinoa recipes? Here are a few more from my blog:
How to Cook Quinoa: Tips for Perfect Results
Before we finish up with some FAQs in a moment, I just want to share a few quick tips to help you cook quinoa perfectly every time.
Rinse it off: Before cooking quinoa, you absolutely MUST rinse it thoroughly to remove its natural coating (called saponin). If you don't, it ends up tasting bitter. Just rinse it under cold running water in a fine-mesh sieve. Gently rub the grains between your fingers and continue until the water runs clear.
Get the ratio right: The right quinoa-to-water ratio gives you deliciously fluffy and tender grains. Typically, a ratio of 1 cup of quinoa to 2 cups of water works well. However, depending on your preferred texture, you can adjust the amount of water a bit. For example, if you prefer lighter, fluffier quinoa, use 1 ¾ cups of water instead.
Toast it for even more flavor: While not necessary at all, toasting quinoa before cooking gives it an extra layer of depth and flavor. Just heat a dry skillet over medium heat and add the rinsed and drained quinoa. Toast for about 5 minutes. Make sure you're stirring constantly. You'll know they're done when they start to crackle.
Don't stir it once it's boiling: Stirring while toasting is vital…but stirring while cooking can actually ruin your quinoa's fluffiness. Once the water starts to boil, lower the heat and cover the pot with a tight-fitting glass lid (so you can see when all of the water is absorbed). Then leave it alone until it's done (usually after about 15 minutes or once it's soaked up all of the water).
Let it sit, then fluff it up: When it's done cooking, take the quinoa off the burner and let it sit in the pot for 5 more minutes with the lid on. Then, remove the lid and use a fork to "fluff" it up a bit. That's it! It's actually a very easy process, so don't let all of the steps scare you.
FAQs about Quinoa
Is quinoa really better than rice?
Yes, it really is! Forgetting about the potential issue of arsenic in your rice, quinoa just has a better nutritional profile overall. It's the only grain that contains all of the amino acids you'd find in meat-based proteins, making it an ideal choice for vegans and vegetarians. Plus, it packs in 5 more grams of fiber compared to rice.
Is too much quinoa bad for you?
Like all things- even water- quinoa can be problematic if you overdo it. The most notable downsides of eating too much quinoa are similar to that of any high-fiber food and include stomach discomfort, bloating, diarrhea. Stick to about one-to-two cups a day max (which is actually a lot more than it sounds like since quinoa is very filling and plumps up when cooked).
Is quinoa a protein or a carb?
Both! While quinoa is technically a carbohydrate (albeit it a gluten-free one), it's also a complete protein. It contains all of the amino acids that act as building blocks for protein in your body.
Is it okay to eat quinoa every day?
While you should vary your diet to include a mix of healthy and wholesome foods, yes, it's okay to eat quinoa every day if you want to. In fact, a study by the Harvard Public School of Health found that eating high-fiber whole grains like quinoa can actually help you live longer and fight off heart disease, certain types of cancer, diabetes, and other diseases.
Is quinoa keto-friendly?
No. While it's one of the healthiest carbohydrates, it's not the most keto-friendly food. You CAN eat it on a keto diet, but it will take up most of your carb allowance.
Do you need to wash quinoa before eating it?
That depends. Most quinoa sold in stores is already pre-rinsed, so you don't need to wash it again. However, if you're buying it from sources that don't rinse it before packaging, then yes, you should wash it first, especially if you're sensitive to saponins. While it's safe to eat unwashed, the saponins in it give it a bitter taste.
Are you concerned about arsenic in rice? Lack of nutrients? Ditch the empty source of calories and start cooking with quinoa! You will get almost double the fiber and phosphorus, four times more iron, and five times more potassium.
I hope you enjoy this 10 Quinoa Recipes That Will Make You Forget All About Rice post, and please let me know if you have any questions. If you are interested in more ways to eliminate unhealthy grains from your family's diet, check out my favorite gluten-free recipes that kids will love.
I also believe kids deserve to eat real food. They deserve food cooked at home, and made from scratch. But don't worry. I am not a chef or have many years of experience cooking. So most of my recipes are very easy to prepare. I think mealtime should not be complicated or stressful. With just a few fresh ingredients we can make delicious meals that our whole family can enjoy. Homemade food is always the best choice.